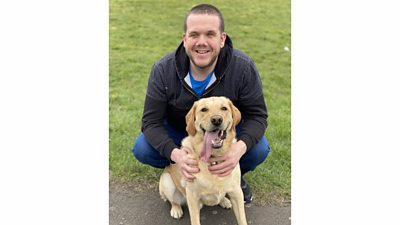 I'm really pleased to have been appointed to this important role for our national broadcaster. I'm looking forward to building on the good work of my colleagues and predecessors to further improve accessibility and facilities for disabled colleagues, which will be to the benefit of all our staff and users of the BBC's first-rate services.
The BBC have appointed Robbie Crow as the Corporation's Diversity & Inclusion Strategic Disability Lead.
Robbie started in post on Monday 27 March and will be working closely with teams across the BBC developing and driving forward disability workforce-related strategies to support both disabled staff and users of BBC Services. He will also be responsible for leading the BBC's commitment to be 'Accessible First', part of the Diversity & Inclusion Strategy launched in 2021.
Having previously worked for various disability organisations, Robbie joins the BBC from the Scottish Government where he held various policy posts, including working on reducing the Disability Employment Gap. He was also Chair of their Disabled Staff Network, representing disabled staff in Scottish Government during COVID-19.
In his new role, Robbie will be part of Chinny Okolidoh's team, the BBC's new Director of Diversity and Inclusion, who started in post in November 2022 and leads the Corporation's diversity strategies.
Robbie Crow, Diversity & Inclusion Strategic Disability Lead, BBC, says: "I'm really pleased to have been appointed to this important role for our national broadcaster. I'm looking forward to building on the good work of my colleagues and predecessors to further improve accessibility and facilities for disabled colleagues, which will be to the benefit of all our staff and users of the BBC's first-rate services."