As Growers of Good™, Del Monte Foods, Inc are always working hard to reduce the footprint of their packaging by investing in new materials and redesigning existing materials. Since 2009, they have been reducing their use of plastics and metal. Today, only 4% of their packaging by weight contains any plastics; the rest is fully recyclable steel, glass or paper based.
Additionally, despite increasing sales volume, they've eliminated the use of 11.4 million pounds of plastic and 34.5 million pounds of metal since 2009.
Packaging Goals
They're committed to taking care of the earth by continuing to push for more progress. Currently, they're working to develop a compostable fruit cup as well as beverage and fruit cups that contain post-consumer recycled content. Additionally, they aim to:
By 2025:

Include 25% recycled content into plastic packaging once recycled polypropylene supply is available and FDA approval is received.
Add How2Recycle® icons to 100% of our packaging.
 

By 2030: Convert plastic packaging to 100% recyclable, reusable or compostable.
History of Sustainable Packaging
For the past 130+ years, most of their products have been packed in steel cans, which have the highest recycling rate of any material. Del Monte Foods, Inc ship and protect products in corrugate, which contains 33 percent recycled content. Their paper-based products are 100 percent certified by the Sustainable Forestry Initiative® or Forest Stewardship Council®. Additionally, they  participate in the How2Recycle initiative of the Sustainable Packaging Coalition® to inform consumers how to correctly recycle their recyclable packaging.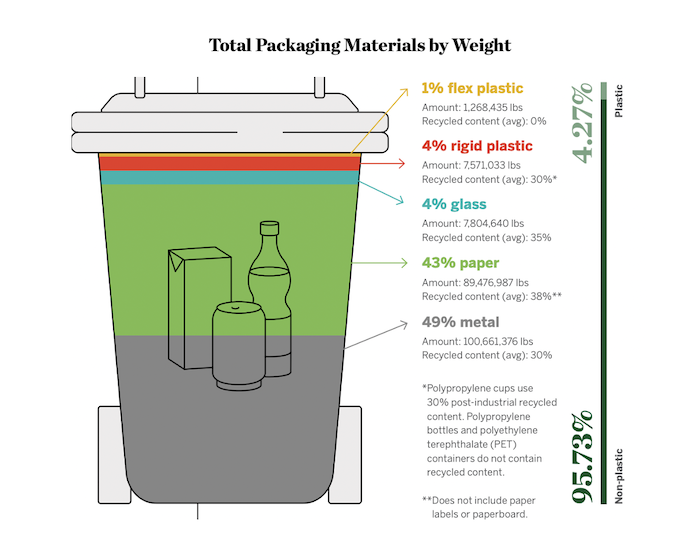 As members of the Sustainable Packaging Coalition and Consumer Brands Association, Del Monte Foods, Inc advocate for improving recycling infrastructure and exploring new packaging options that are more widely recyclable and use a higher proportion of recycled content.
Learn more about Del Monte Foods' commitment to sustainable packaging and our Environmental & Social Governance efforts here.