A London-based community group running workshops to educate students and health professionals on Female Genital Mutilation (FGM) is expanding their service after receiving almost £10,000 from The National Lottery Community Fund, the largest funder of community activity in the UK.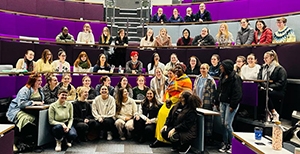 Educate Not Mutilate is one of almost 400 charities and community groups in London, doing vital work with communities, to receive a share of nearly £17 million in funding from The National Lottery Community Fund in the last three months.*
Hibo Wardere, co-founder of Educate Not Mutilate, was six-years-old when she experienced FGM in Somalia. Ms Wardere aims to end the practice by spreading her story through educational workshops across the country to help professionals identify victims and those who seek support.
The Educate Not Mutilate sessions empower women to take full autonomy over their bodies as victims of FGM, having often endured physical and mental health issues as a result of their abuse, such as post-traumatic stress disorder, depression and complications during childbirth.
In the first two months since starting the Educate Not Mutilate project, 3,500 student midwives, health professionals, and school students have attended one of their sessions, which are tailored to tie into the secondary educational curriculum.
A midwife who attended an Educate Not Mutilate workshop said: "I feel much more educated on this important topic and I feel nothing but admiration and deep respect for Hibo. I feel more confident at the prospect of supporting a female survivor in midwifery."
Hibo Wardere, Co-founder of Educate Not Mutilate, said: "Female Genital Mutilation is hidden abuse and a crime that is committed under the name of cultural or traditional heritage. Education is a vital tool to equip young people with knowledge and protection to prevent violence. I can't thank National Lottery players enough for the funding and the opportunity to turn my pain into an educational and empowerment tool to protect young women from this cruel practice."
Helen Bushell, Head of Regional Funding for London, the South East and East of England at The National Lottery Community Fund, said: "Thanks to National Lottery players and the hard work and dedication of local projects like the Educate Not Mutilate project, this funding will make a big difference to young people's lives in London, and across the country. We're delighted that our funding is being used to improve the knowledge of young people and provide the support they need to prosper and thrive."
London isn't alone in benefiting from National Lottery funding. Today it was announced that over £100 million of National Lottery funding has been awarded to almost 2,500 community groups in England in the past three months.*
National Lottery players raise over £30 million each week across the UK for good causes. The National Lottery Community Fund as a distributor ensures a share of this funding goes straight to communities, helping them to tackle important issues such as supporting young people into employment, mental health and climate action.