On Thursday, January 14, the European Investment Bank (EIB) issued a CAD 1bn 7-year Climate Awareness Bond (CAB). Paying a semi-annual coupon of 1%, the issue offers a yield of 1.003% and a spread of 47.3bp over the 7-year Canadian Government Benchmark (1% June 2027).
A CAD 7-year benchmark CAB for the EIB was announced in the early afternoon in Canada on Wednesday, January 13. The orderbook was formally opened in the morning of Thursday, with indications of interest already in excess of CAD 1bn. The spread was then set at mid-swaps less 8bp, 1bp tighter than initial guidance. 
The final book closed at CAD 1.46bn (inc. CAD 75m JLM interest), with around 60 investors participating. The transaction attracted strong interest from domestic accounts – with close to half of the issue placed into Canada. In terms of investor type, fund managers led the way (around 50%), followed by banks. Over one-fifth of the transaction was placed with central banks/official institutions.
Proceeds from Climate Awareness Bonds are allocated to EIB's lending to activities contributing substantially to climate change mitigation in line with evolving EU sustainable finance legislation. The so-called EU Taxonomy Regulation, aiming to 'establish the criteria for determining whether an economic activity is environmentally sustainable', entered into force in July 2020. 
EIB's Climate Bank Roadmap 2021-2025, approved in November 2020, sets out in detail how the EIB Group aims to support the objectives of the European Green Deal and sustainable development outside the European Union. The Roadmap affirms the Bank's intention to:
align its tracking methodology for green finance with the framework defined by the EU Taxonomy Regulation;
reflect this alignment to capital markets through progressive extension of CABs' eligibilities (as well as those of Sustainability Awareness Bonds', SABs', which cover sustainability objectives beyond climate); and
gradually align CABs (and SABs) with the proposed EU Green Bond Standard.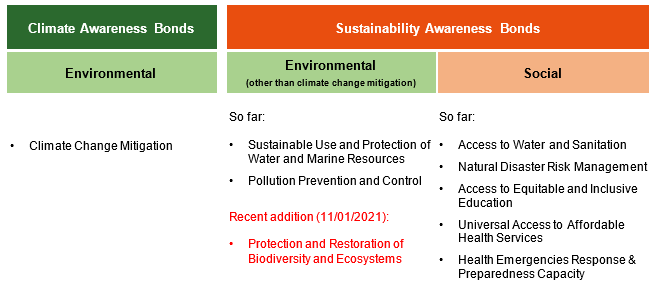 Comments on the issue:
Eila Kreivi, Director and Head of Capital Markets at the EIB: 'Since early days, the CAB programme has been helping us connect with investors in markets we do not visit on a daily basis. This year, we have already been able to make our mark with sizeable green Kangaroo- and Maple- transactions. EIB's Climate Bank Roadmap 2021-25 foresees that our green lending be aligned with the EU Taxonomy Regulation, and so will our sustainability funding – with transparency and reliability at heart. We are pleased to see this approach appeal to investors globally – from Australia to Canada, literally.'
Mark Warywoda CFA, Senior Portfolio Manager, Strategy and Portfolio Construction at Addenda Capital: 'Addenda Capital is pleased to invest in another Climate Awareness Bond from the European Investment Bank on behalf of our clients. Climate Awareness Bonds have long set a high bar for bonds that enable climate action with a strong and evolving framework, a rigorous process to ensure proceeds are allocated to projects with clear environmental benefits, and fulsome disclosure that is assured by an independent third party. The climate transition is underway and this bond will help us get closer to the resilient, net-zero emissions society we are seeking.'
Mike Field, Director at Scotiabank's Group Treasury: "Scotiabank continues to execute on and track ahead of plan in its Green, Transition, Social & Sustainable portfolio mandate, an important component of the Bank's OSFI/LAR HQLA eligible Liquidity Portfolio.  EIB's second CAB transaction has enhanced our understanding of their approach to the evolving EU standards and the desired impact of their program. We particularly value the reasonable assurance provided by the auditors on the framework's external review, as well its alignment to the EU Sustainability Taxonomy."
Composition of demand
| | | | | |
| --- | --- | --- | --- | --- |
| By Region |   |   | By Investor Type |   |
| Canada | 47% |   | Fund Manager/ Insurance/ Pension | 48% |
| EMEA | 31% |   | Bank/ALM | 31% |
| Asia | 20% |   | Central Banks / Official Institutions | 21% |
| USA | 2% |   |   |   |
Summary Terms and Conditions for the new CAD 1bn Climate Awareness Bond due January 2028

| | |
| --- | --- |
| Issue Amount | CAD 1bn |
| Pricing Date | 14 January 2021 |
| Payment Date | 28 January 2021 (T+10) |
| Maturity Date | 28 January 2028 |
| Coupon | 1% semi-annual, act/act Canadian compound convention, unadjusted following |
| Re-offer Spread | MS-8bp / GoC June 2027 +47.3bp |
| Listing | Luxembourg Stock Exchange |
| Lead Managers | BMO Capital Markets, CIBC CM, NBF, Scotiabank and TD Securities  |
Total CABs outstanding exceeds EUR 27bn (equiv.) with 40 lines across 15 currencies.
As of 14/01/2021, the EIB has raised over EUR 16.1bn (equiv.), i.e. ca. 27% of the announced EUR 60bn 2021 borrowing programme
Link to CAB Framework 2019