The new "Insomnia" campaign will highlight DW's many initiatives for freedom and human rights – accessible in 23 languages, online and via social media.
"Our mission is to report independently and impartially and to inform people around the world – especially in regions where access to news is limited," said DW Director General Peter Limbourg. Starting September 22, the new "Insomnia" campaign highlights DW's many initiatives for freedom and human rights.
DW has been promoting democratic values and human rights since being founded in 1953: "These ideals are the foundations of our daily journalistic work. Every journalist has the right to report without restrictions. Every artist has the right to express herself or himself. And it must be everyone's right to express an opinion in public without having to fear for one's personal freedom," Limbourg said.
Since 2015, the DW Freedom of Speech Award has honored persons or initiatives for their outstanding promotion of human rights and freedom of expression. Freedom of Speech Award laureates include Saudi blogger Raif Badawi (2015), Sedat Ergin (2016), former editor-in-chief of Turkish newspaper Hürriyet, the White House Correspondents' Association from the U.S. (2017), Iranian political scientist Sadegh Zibakalam (2018), and Mexican investigative journalist and author Anabel Hérnandez (2019). This year, DW honored 17 journalists from 14 countries who represented all journalists worldwide who have disappeared, been arrested or threatened because of their coverage of the Corona crisis.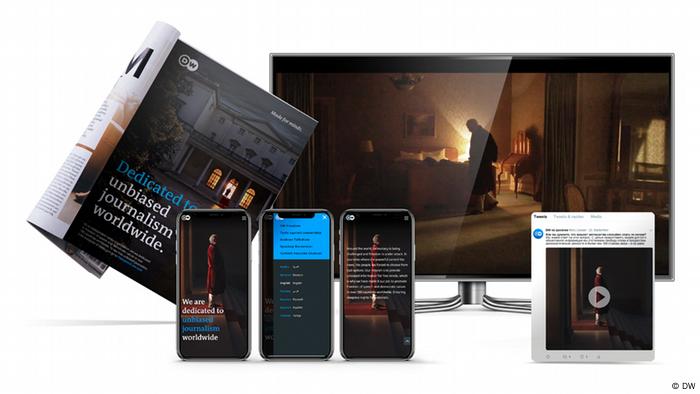 Since January 2018, the DW Freedom initiative has been providing information about DW's reporting on freedom of opinion and press freedom worldwide and calls for the protection and strengthening of these rights. The online platform gives users the opportunity to network worldwide and draw attention to human rights violations.
The YouTube channel +90 was launched in April 2019 and named after Turkey's international country code. It's joint project of international broadcasters DW, BBC, France 24 and Voice of America and aims to provide especially young Turkish-speaking users with independent, credible journalism. The range of topics includes international politics, business, society, science and culture.
In August 2019, DW presenter and journalist Jaafar Abdul Karim launched his new weekly show for the Arab World. JaafarTalk offers discussions about socially and politically relevant topics and gives a voice to those who are otherwise not heard. The show is extremely popular with its target groups.
InfoMigrants, a cooperation of DW, France Médias Monde and Italian news agency ANSA, is a news and information site for migrants and people considering leaving their home countries for Europe. Since 2017, InfoMigrants' mission is to convey reliable and realistic expectations of European asylum procedures and the risks of an illegal journey to Europe. The project, financed by the EU Commission, offers content in English, Arabic, Dari, Pashto and French.
In order to reach users in countries with state-restricted access to the Internet, DW offers measures to circumvent technical censorship. Users can access DW's services anonymously and securely via Psiphon, Tor (The Onion Router) or with support from the Open Technology Fund (OTF).