From Thursday 16th September until 30th September 2021, All Out is taking over Lush Liverpool Spa's third floor, previously known as the Christmas Floor and for hosting installations of the 11th Biennial edition, 'The Stomach and the Port'.
The floor will host all pieces of the global award winners of the All Out Photo Award 2021 and runner-up photography works. 
The Photo Award was launched on 17th May 2021, the International Day Against Homophobia, Biphobia, Intersexism and Transphobia (IDAHOBIT). Inspired by the theme of this year's IDAHOBIT, "Together: Resisting, Supporting, Healing!", the competition called on photographers to share unique photos that capture how LGBT+ people and their communities and allies around the world resist attacks and discrimination, support each other in these difficult times, and heal together.
An international jury of renowned photographers viewed over 1,800 photos by more than 380 photographers from over 60 countries. They were impressed by the diversity of photos submitted: photos from around the world that capture both the beauty, resilience and vibrancy, but also the pain, resistance and isolation of so many different LGBT+ communities.
The winning photos were displayed on the ViacomCBS screens in Times Square, New York City during Pride celebrations. They were also featured at World Pride Copenhagen and at exhibition spaces across the world.
In many countries around the world, LGBT+ people continue to face a disproportionate impact from COVID-19. Dependence on the informal economy and pre-existing health vulnerabilities, particularly HIV, are all combining to leave queer communities horribly exposed. All this comes on top of existing challenges of marginalization, discrimination and violence that queer communities were already facing. The competition documented these struggles, as well as the precious moments of global solidarity that have provided support and the healing since the global health crisis began.
All Out is proud to be working with Lush to bring these amazing photographs from the Global Photo Awards to Liverpool. The images are a testament to both the strength and the vulnerability of global LGBT+ communities. They provide an incredibly diverse and moving insight into LGBT+ lives from across the world.
Matt Beard, Executive Director, All Out
I was very pleased that one of my photos from Queer Spirit has been chosen as runner up in the All Out Photo Award. Exhibiting the photos in Liverpool at Lush is a fabulous opportunity to celebrate queer life in all its glory and diversity to the wider world, I'm honoured to be a part of that.
Mike Kear, UK-based runner-up in the "Supporting" category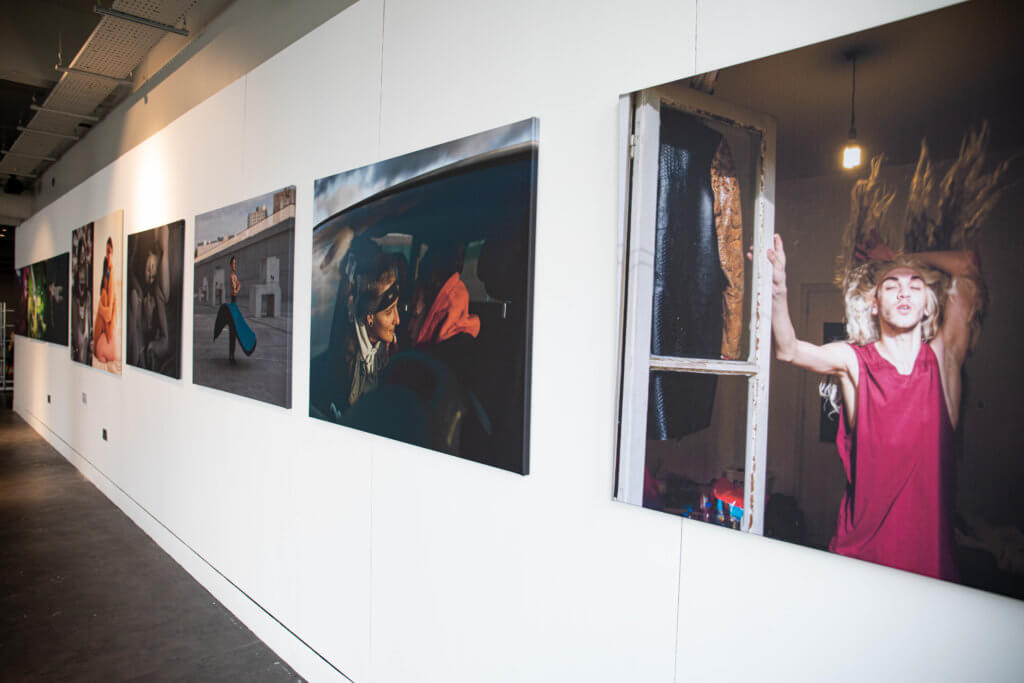 Alongside the All Out exhibition, some  of the space will be taken over by Homotopia with a selection of local photographers displaying their work as part of the ongoing Visible and Safe campaign for LGBTQIA people living in Liverpool.  
Following a recent spate of violent homophobic hate crimes in central Liverpool, the city council approached Homotopia and LCR Pride Foundation and asked them to put together a creative, community-led response. 
In collaboration with the local LGBTQIA community, a two-year proposal was designed that combines visible queer art with a programme of community building and training for venues and transport providers. Liverpool City Council has agreed to fund this project. The project is ongoing and input is still very much welcomed 
Exhibited photographs include work by here and queer collective, a street-art project focusing on claiming public spaces where hate crimes have occurred with Felix Mufti, Luke Bryant, Kolade T Ladipo, Franklin Dawson and Iesha Palmer, also exhibited is photographer Michael Parry, and model Frank Mason.
All Out LGBT+ Photo exhibition at Lush Liverpool Spa
Monday to Saturday, 10:00 am – 5:00 pm
Sunday: 11:00 am – 5:00 pm
Booking and admission: No bookings required, free entry