Essity respects biodiversity and ecosystems by promoting sustainable forestry operations, reducing greenhouse gas emissions and plastic waste, and improving water use and water quality. As part of a major analysis of our impact on biodiversity, biodiversity was integrated into Essity's overall risk management in 2021.
Reduced material use and alternative materials
As a means of reducing wood fiber purchases, we strive to reduce material use in our solutions. We are investing in new technology to increase the possibility of utilizing a larger share of recycled and alternative materials. One step in this direction was Essity's investment in the production facility in Hondouville, France, in 2021. The investment made it possible to increase the recycling capacity for cartons and extract 98% of paper fiber in food and beverage cartons. We are also investing in alternative renewable fibers such as wheat straw, an agricultural by-product that often remains unused.
Certification for sustainable forestry
Our long-standing work with responsible fiber sourcing is an important part of our sustainability strategy to support sustainable forestry and thereby promote biodiversity. We ensure sustainable fiber sourcing through certifications such as the Forest Stewardship Council (FSC) and the Programme for the Endorsement of Forest Certification (PEFC) and can therefore prevent deforestation and promote biodiversity in the forest. Every FSC-certified forest must be assessed by an accredited FSC certification body each year. Essity works with and encourages non-certified suppliers and forest owners to become certified. This secures our own sourcing of certified materials while increasing the availability of certified raw materials to other users. In order to further promote responsible forestry on global, regional and national levels, Essity is supporting the development of international certification systems.
Cooperation to combat forest degradation and deforestation
Essity cooperates within the framework of the Consumer Goods Forum (CGF) with leading consumer goods companies in the Forest Positive Coalition of Action initiative to combat global forest degradation and deforestation and to preserve biodiversity. In 2021, Essity took part in a project to strengthen sustainable forestry and care of forests with a high conservation value in north-western Russia, Europe's largest connected forest area with high nature values. The purpose is to increase the uptake of sustainable forest management practices, as well as engage communities and other local stakeholders in a landscape planning process. In 2021, Essity played a leading role in CGF's Forest Positive Coalition, where we worked with other global companies to strengthen forest management and prevent deforestation.
Targets and transparency
In 2021, Essity was awarded a place on the global non-profit environmental organization Carbon Disclosure Project's (CDP) A List for its efforts in combating deforestation. This was motivated by Essity's ambitious efforts to prevent deforestation and promote responsible forestry, and its leadership in terms of objectives, actions and transparency in the environmental field. Through CDP's database, everyone can access information about how Essity works with fiber suppliers, industry organizations and other stakeholders, including non-profit organizations, to manage and promote sustainable forestry.
Improved water use and water quality
Around the world, declining water levels are affecting people, local economies and ecosystems. This also affects Essity's operations, from access to raw materials and production facilities to the communities in which our employees and consumers live. The water risks differ around the world and we assess water-related risks and impacts individually for our production facilities, both from a geographic and operating perspective. Water is mainly needed for transporting fiber during the production process. Recirculating water that has been used in production several times helps to reduce energy use for heating and treatment of water. Most of the water is treated after use and is being discharged.
Environmental permits for tissue plants also include limits for typical pollutants, such as chemical oxygen demand, phosphorus and nitrogen. Essity is investing in new wastewater treatment technology to meet increasing requirements on the quality of the discharged water. This is particularly important in locations where water is a resource shared with a large number of users, such as along major rivers, where the temperature of the water released must also be carefully monitored.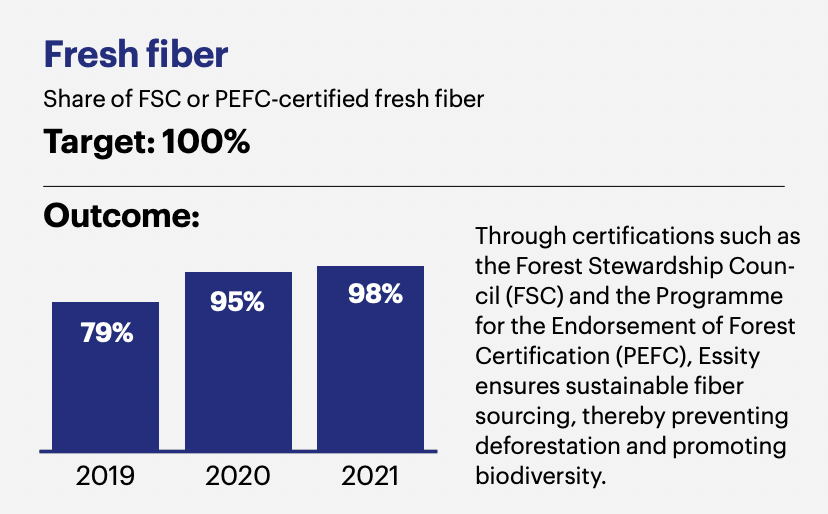 Memberships
Together with other companies and organizations in CGF's Forest Positive Coalition of Action, Essity works systematically to address deforestation and forest destruction and promote biodiversity.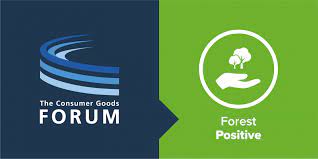 Essity is one of the world's largest suppliers of FSC-certified hygiene and health products. We work with forest certification systems, such as FSC, which ensure sustainable forestry operations and respect for environmental, climate and social values.
In 2021, Essity was again awarded a place on CDP's A List for its work in combating deforestation. CDP's annual data collection and assessment process provides a benchmark for the transparency of companies' environmental activities.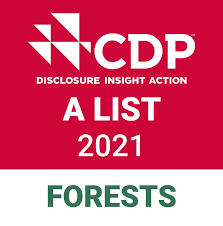 Download the Essity Annual and Sustainability Report 2021 here