Volleyball World has launched the world's first 'Equal Jersey' campaign, which will see the sport's top players champion gender equality by wearing a special edition jersey featuring their own name and that of a player of the opposite gender.
Male and female players who share the same jersey number will proudly wear each other's names on their jerseys for the first time at the Volleyball Nations League (VNL) 2021 Finals on 25 and 27 June 2021. The special edition jerseys will be worn during the finals to highlight how the sport of volleyball, the players and the fans all strive to challenge the inequality which frequently exists between genders in the world of sport.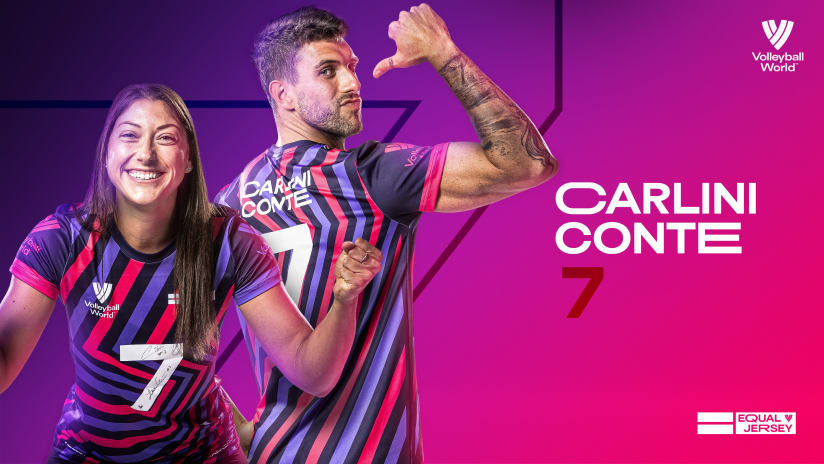 Three pairs of players have been confirmed as the first Equal Jersey ambassadors, including: Lauren Carlini (USA) and Facundo Conte (ARG) sharing the No. 7 Equal Jersey, Natalia Goncharova (RUS) and Wallace de Souza (BRA) sharing No. 8, and Eda Erdem (TUR) and Nimir Abdel-Aziz (NED) sharing No. 14.
While the rules in sports are often the same for all players, there remains a huge disparity between genders in sport which needs to be challenged.  Volleyball aims to promote a level playing field across the sport with women's and men's major competitions receiving equal prize money and generating equal viewing figures. However, Volleyball World recognises there is always room to improve. This is why the sport of volleyball, through the Equal Jersey activation, aims to rectify this situation and score another point for gender equality.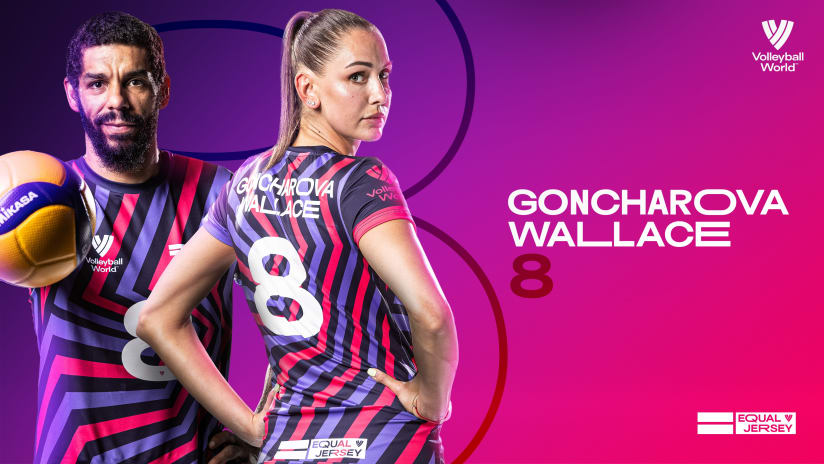 Volleyball World CEO Finn Taylor said:
"Volleyball World is proud to be a leading advocate for promoting gender equality in sport. Gender equality and inclusivity are in volleyball's DNA and we will always refuse to accept the status quo.
"It is a sport where, on an international level, women and men compete on a level playing field, with equal opportunities, equal pay and equal attention. But we have to do more to lead from the front in this regard, showcasing volleyball's culture of inclusivity and equality in new and innovative ways to encourage greater action across the world of sport.
"By launching the Equal Jersey campaign, we aim to showcase that volleyball is universal. It brings people together and players and fans cheer for all, championing equality, diversity and inclusion as a limitless strength."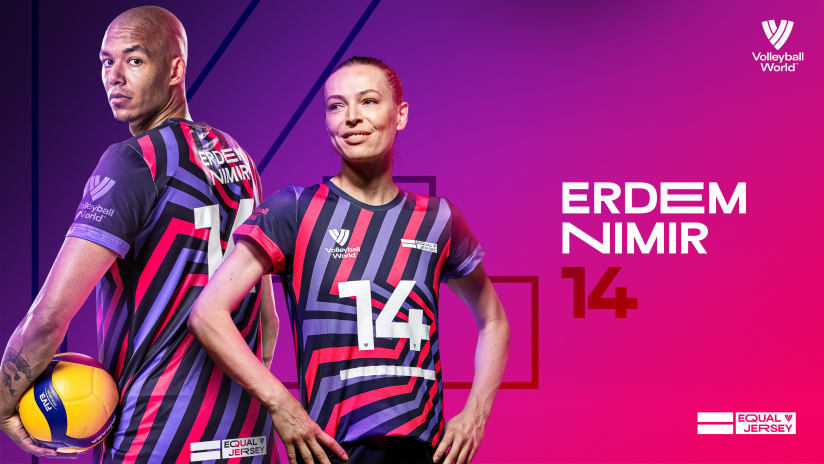 The Equal Jersey design is part of a wider campaign of Volleyball World's new brand positioning and visual identity which aims to grow the global appeal of volleyball and show how it is a sport like no other. The new brand will be brought to life through a variety of digital and social media campaigns which will involve player ambassadors and run in the lead up the Olympic Games Tokyo 2020. Find out more on Volleyball World website, where everything volleyball comes together in one place.
Volleyball World's mission is to grow the sport by embracing all volleyball stakeholders with a shared purpose to become the largest connected sports ecosystem in the world. Through this connected ecosystem, the volleyball community can build awareness around key issues such as gender disparity in sports and continue to score points for gender equality.
One of the factors that stands volleyball apart from other sports is the gender balance inherent in the sport and its competitions. Across all major competitions, equal prize money and match formats are ensured to promote a level playing field. According to Nielsen consumer research, viewership figures in volleyball showcase that the women's and men's game are equally popular while the sport's fan demographics are evenly split between both genders.