Residents at Bristol City Council's Ashton Rise development will drive on some of the UK's 'greenest' roads when they move in next year.
Willmott Dixon is using an innovative method that incorporates non-recyclable plastic originating from the scheme into the asphalt used on Ashton Rise's new roads. By replacing part of the traditional carbon intensive bitumen usually found in asphalt with plastic waste, the innovation will stop the equivalent of 150,000 single use plastic bags from needing to be incinerated or going to landfill.
It will also save 1.6 tonnes of carbon entering the atmosphere and because it contains plastic, the asphalt will be more flexible, meaning it can cope better with movement caused by changes in the weather, reducing cracks and potholes.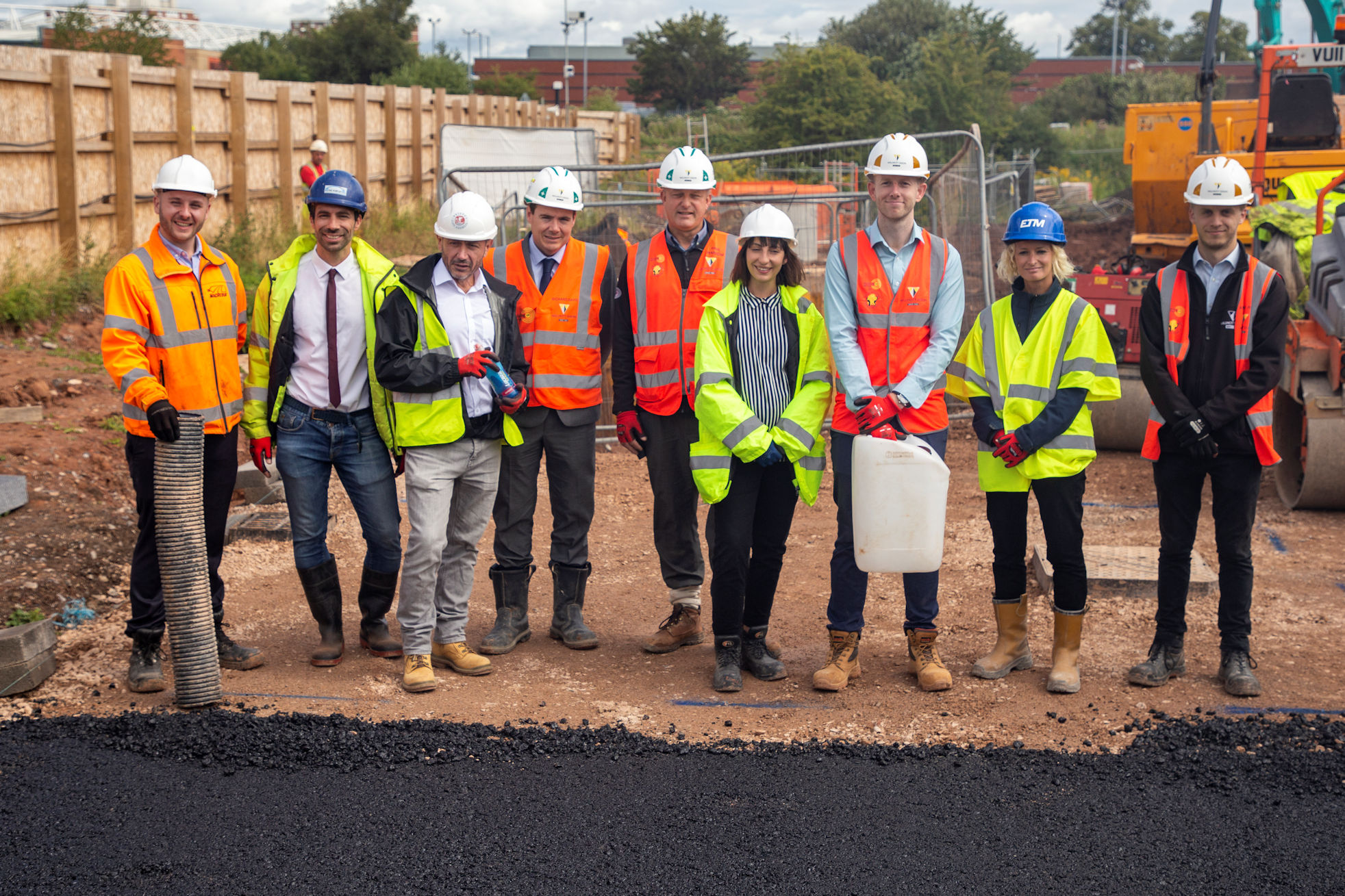 To deliver this scheme, waste management company ETM collects any non-recyclable plastic from the Ashton Rise site before plastic road company MacRebur processes it so that the resulting asphalt can be laid back at the development by Gworks Surfacing. Also, as the plastic melts into the mix, there are no microplastics present.
It's the latest in a series of ways that Willmott Dixon is helping to nurture and protect the environment. Earlier this year the company won a Queen's Award for Enterprise for Sustainable Development before being named 'Environmental Contractor of the Year' last month by industry magazine Construction News for achieving a 61% reduction in carbon emissions intensity (against 2010 performance), as well as ensuring all sites and offices are powered by 100% clean renewable energy.
Neal Stephens, managing director for Willmott Dixon in the South West, said: "This innovation is also complemented by low-carbon heating which is also being installed at the site, making Ashton Rise a highly sustainable development with individual homes making lifetime carbon savings of 23.5kg.
"By showcasing these innovative solutions to support carbon waste reduction, we hope to inspire other developers."
Mayor of Bristol Marvin Rees said: "This innovative approach will set Ashton Rise as the benchmark for new, environmentally friendly residential developments as residents will drive on some of the greenest tarmac in the country. It's the introduction of innovations like this that will help drive us forward towards achieving our environmental goals as set out in the One City Plan."
Toby McCartney from MacRebur said: ''Sustainability is a key part of the Ashton Rise development so it's fantastic to see our technology being used here to repurpose plastic which would otherwise have gone to incineration or landfill for the roads and footpaths across the site.''
Willmott Dixon, which employs over 290 people in the South West, is behind a host of key projects shaping Bristol's future, including the Aurora office and Build to Rent development at Finzels Reach, Queen's Building at University of Bristol, the Bower Ashton campus at University of West England, three new fire stations at Kingswood, Hicks Gate and Temple Back for Avon Fire and Rescue, plus the Centre for Nanoscience & Quantum Information for the University of Bristol.