AGS Airports, which owns Aberdeen International, Glasgow and Southampton airports, has committed to achieving net zero for its direct emissions by the mid-2030s as part of its new sustainability strategy which it has announced recently.
Scotland's Minister for Transport, Graeme Dey MSP, joined AGS' Chief Executive, Derek Provan, to launch the strategy which sets out how AGS will balance the undoubted social and economic benefits of aviation with its climate change responsibilities.
All three AGS airports achieved carbon neutrality status in 2020 and the group has now set a roadmap for its transition to net zero by the mid-2030s which will involve the decarbonisation of AGS' infrastructure.
The strategy, which is anchored in the United Nations' Sustainable Development Goals, sets commitments against a wide range of material issues including decarbonisation, biodiversity, modern slavery, circular economy, community support and how it will support its people. Commitments include:
Achieving net zero
AGS will maintain its commitment to carbon neutrality as it delivers its net zero roadmap to achieve net zero carbon for direct emissions by the mid-2030s.
AGS will support the continued development of Sustainable Aviation's Decarbonisation roadmap including the promotion of Sustainable Aviation Fuels, hydrogen and electric flight.
AGS will transition its fleet of vehicles to ultra-low emission vehicles and will continue the roll-out of electric charging infrastructure.
Supporting communities
AGS will continue to invest in its community funds which have awarded over £2 million to local community groups and charitable organisations since 2010.
AGS will work with partners, including the NHS, to trial the UK's first medical drone distribution network.
AGS will work with local communities, schools, colleges and universities to provide training and internship opportunities.
Supporting its people
AGS will align policies and processes with the UN Guiding Principles on Business and Human Rights.
AGS will work with the Slave Free Alliance to review its approach to modern slavery and develop and publish an action plan, in addition to establishing a supplier code of conduct.
AGS will implement a gender equality strategy with objectives focused on flexible working, pay equality and gender composition.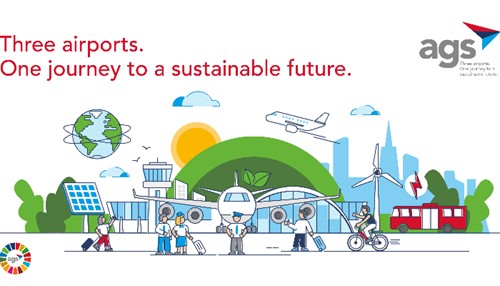 Derek Provan, Chief Executive of AGS Airports, said: "At AGS we have always been acutely aware that operating such important pieces of infrastructure comes with responsibilities; to our people, to our communities and to the environment. As we seek to regrow and restore the connectivity that will help drive Scotland's and the UK's recovery post-COVID, we will balance the undoubted social and economic benefits of aviation with our climate change responsibilities.
"We have made significant progress in addressing our own environmental impacts however, we recognise there is more work to do. In 2020 we became carbon neutral which is an important first step towards our ultimate goal of achieving net zero carbon for our direct emissions by the mid-2030s. Whilst this is a central pillar of our strategy, our sustainability commitments go beyond the decarbonisation of AGS. We want to create shared value and ensure our communities can share in our success as we seek to rebuild.
"In November, the world will look to Glasgow when we host the United Nations Climate Change Conference, COP26. This will be the opportunity for governments to agree a global response to what is a truly global challenge. At AGS, we are committed to working with governments to ensure we play our role in addressing the climate emergency whilst supporting economic and social development in the regions we serve."
Scotland's Minister for Transport Graeme Dey said: "I'm delighted to see AGS Airports lay out their plans to reduce emissions across their sites and play their part in helping Scotland achieve our ambitious climate change targets.
"I warmly welcome their commitment to achieving net-zero carbon for direct emissions by the mid-2030s and working with the wider aviation sector to achieve net-zero carbon emissions by 2045.
"Working together, Government and the aviation industry can look to create a future in which we enjoy the social and economic benefits of air travel without having an impact on the environment."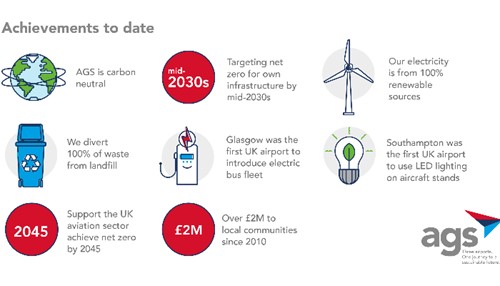 In 2020, AGS Airports was recognised as an "airport transport sector lead" for its sustainability performance by the Global Real Estate Sustainability Benchmark (GRESB) which assesses the Environmental, Social and Governance (ESG) performance of real estate and infrastructure portfolios.
Glasgow was ranked as the best performing airport in the world by GRESB. Together with Aberdeen it received a five-star rating for its sustainability performance, and both were recognised as "airport transport sector leads."
Glasgow, Aberdeen and Southampton were ranked first, second and third respectively within both the UK and European Transport: Airport Companies categories. In the same worldwide category, Glasgow was ranked first, Aberdeen second and Southampton sixth.