The ASA/CAP have released a post called: We're supporting National Consumer Week 2021. I have enclosed the text of the link below, but please have a look at the ASA/CAP site as there are lots of things of interest to anyone with an interest in Ethical Marketing.
From buying sustainably to watching their carbon footprint, consumers are increasingly aware of their climate impact. Businesses are alive to this fact and it's now commonplace to see companies promoting their environmental credentials to appeal to eco-conscious customers. Competition can help drive the environmental agenda but it can also see unscrupulous operators exploiting the situation by fleecing the unwitting or uninitiated.
Research from Citizens Advice has found that more than 19 million adults have been targeted by an environmental scam in the last year. And an estimated 5.2 million people have fallen for environmental scams in the UK in 2021. So we're proud to be supporting National Consumer Week and encouraging people to "be wise to being green".
National Consumer Week is an annual campaign which aims to raise people's awareness of specific consumer issues, and provide support and advice for those who need it. It is spearheaded by the Consumer Protection Partnership (CPP) of which we are a member. The CPP is comprised of partner organisations, including Citizens Advice, National Trading Standards and the Competition and Markets Authority, who we work alongside to help identify and tackle consumer harms.
We're working with the CPP to make sure that consumers can spot:
misleading or socially irresponsible environmental advertising by legitimate businesses, and;
illegal environmental scams.
This year, we announced that we'll be taking a keen look at how legitimate businesses are advertising their environmental credentials, and we're providing advice to make sure you know what to do when you see an ad that might be misleading.
As well as promoting Citizens Advice's top tips for avoiding scams, we're also reminding consumers to use our Scam Ad Alert reporting tool to let us know when they've seen an ad they think might be a problem.
Legitimate environmental advertising
Misleading or socially irresponsible environmental claims
As consumers increasingly look for green options, it's important that they can trust the ads they see and hear. Some ads, however, can make misleading or socially irresponsible claims about how ecologically friendly their products or services are, particularly in regards to carbon emissions or their overall environmental impact.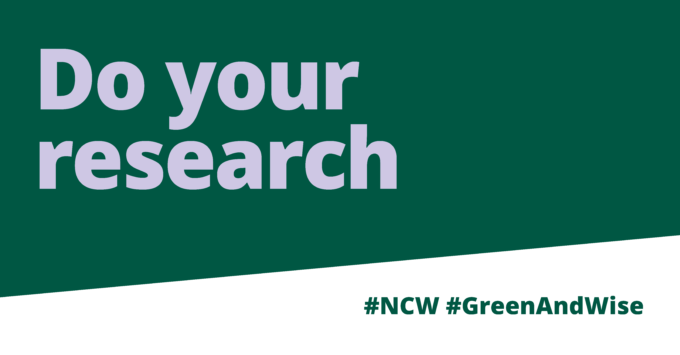 Ads with claims like this are not necessarily a scam or illegal – legitimate advertisers can sometimes get it wrong because the science and evidence behind environmental claims can sometimes be complex. But it's important that they follow our rules and that the ad you're seeing isn't misleading or irresponsible around carbon emissions or environmental impact.
We've been regulating environmental claims in ads for years and have clear rules for how businesses should talk about their ecological footprint. In short, they need to:
Check the claim is relevant and reflects a genuine benefit to the environment
Have a clear idea of the main environmental impacts of their product, service or organisation over its whole lifecycle
Present claims clearly and accurately
Use plain language that is not vague or ambiguous, or jargon that may be misunderstood
Check the claim can be proven
Evidence to support a claim must be clear and robust and have been tested using the most appropriate standard methods
Not say anything that encourages or condones irresponsible environmental behaviours or consumption habits
We're using National Consumer Week to remind advertisers that any environmental claims they make should be backed by evidence. We won't hesitate to take action against advertisers that break our rules.
If you're concerned about any environmental claims you've seen in ads, get in touch.
Illegal environmental scams
Top tips to avoid energy efficiency scams
More than two thirds of adults are thinking about making their home more energy efficient in the next twelve months, but 36% said they had already been targeted by a green scam.
Scams, rogue traders and disreputable companies might use environmental claims to sell bogus or inadequate products or services.
Citizens Advice have produced five handy tips to make sure you can avoid green scams:
Do your research. Before you buy anything, check the company or website you're using. Read reviews on different websites, ask for references, verify the company's details using external sources, and read any terms and conditions.
Check certified schemes. When looking for a trader to use, check certified schemes that recommend traders, like TrustMark – the Government's endorsed quality scheme.
Get written quotes and a contract. Try to get quotes from at least three different contractors to help you decide if you're getting a fair price. Once you've decided, always get a written contract before you give a contractor the go-ahead. If something goes wrong it can help get what you paid for, or at least get some of your money back.
Pay with a secure method. Credit cards offer the most protection, followed by PayPal or debit card. If you're paying for large home improvement works, see if you can pay in stages, and avoid paying for costs up-front where possible.
Be suspicious. Scammers and rogue traders can be very smart. Take your time to make sure you're happy with your decision – if someone pressures you or contacts you out of the blue, it's most likely a scam.
When it comes to scams, we have a tool specifically for reporting online paid-for ads. The ASA's Scam Ad Alert system provides a way for anyone to quickly and easily report to us scams that they have seen. Where we have sufficient information and the report relates to an obvious scam, we pass the details to our network of key industry partners, including all the major social media platforms and ad networks operating in the UK. This means that scam ads are taken down and the information used to stop similar ads appearing. If you think you've seen a scam ad online, report it to us.
If you think you've fallen victim to a scam, or are being targeted by one, be sure to get in contact with Citizens Advice.
Visit www.citizensadvice.org.uk/NCW21 for more information about this year's National Consumer Week. It's good to be green, but businesses who falsely advertise green credentials shouldn't have your money.