We embrace innovative thinking and big ideas, and we celebrate when ideas become reality.
The needs of everyday entrepreneurs are constantly changing — and no two entrepreneurs' needs are identical. We keep up by evolving our products and services to make sure they're versatile, easy-to-use and ready for those big ideas.
We've made an intentional shift toward a culture of experimentation to ramp up innovation on behalf of our customers. Today, the world is full of new entrepreneurs who found their stride during a global crisis and — with our elevated commerce platforms, social media platforms, website hosting solutions and more — are turning a challenging time into an opportunity to create something positive.
A culture of experimentation
We challenge our customers to imagine what's possible — and we hold ourselves to the same standard. We expanded controlled experiments by more than 300%1 , which we believe led to numerous customer improvements. As a company, we witnessed an explosion of experimentation culture, with results being shared with leaders across the company via monthly business reviews.
Technical innovation
In the spirit of experimentation and innovation, we initiated several advancements in 2021, including the use of machine learning models for Marketing and Care Services teams. This development expands our use of data to power two major areas of our business.
The creation of a technical north star in terms of high-level architecture promotes the autonomy of product and engineering organizations working within their bounded context, all while providing interaction rules that manage the complexity between them. We also initiated ArchiTalks, an internal monthly series where principal engineers share their innovations, experiments and new tools in an effort to spread awareness of wins and opportunities.
Finally, a new internal open governance Tech Radar defines our direction across programming languages, frameworks, platforms, tools and techniques. This supports our customers by establishing a path for future success that aligns our teams on common methodologies and technologies.
New products and services
We're committed to empowering businesses with more smart tools and services that keep them in front of and engaged with their customer base. As the number of platforms where businesses and products need to show up continues to increase, we are focused on ensuring our customers can be there with relevant, great-looking content. From product shots to point-of-sale promotions, we know that our customers need to be ready to sell anything, anywhere, and we're determined to provide them with the tools and know-how they need to do so — all from a single place.
And we don't stop there. With an eye on building and deepening relationships, we enable customers to engage in chats, texts and social media posts from wherever they are.
New product highlights include:
GoDaddy Payments: Our customers are mobile, and their customers are mobile. That's why we bring the power of the sale to their hands — literally. The updated GoDaddy mobile app payment functionality pairs well with our new card reader to accept cards, record cash transactions and manage and fulfill online orders on the go. This new product represents a landmark achievement for the company, one that involved completing the acquisition of Poynt and launching a new product in roughly 125 days. It's a testament to the dedication of our team and our commitment to everyday entrepreneurs.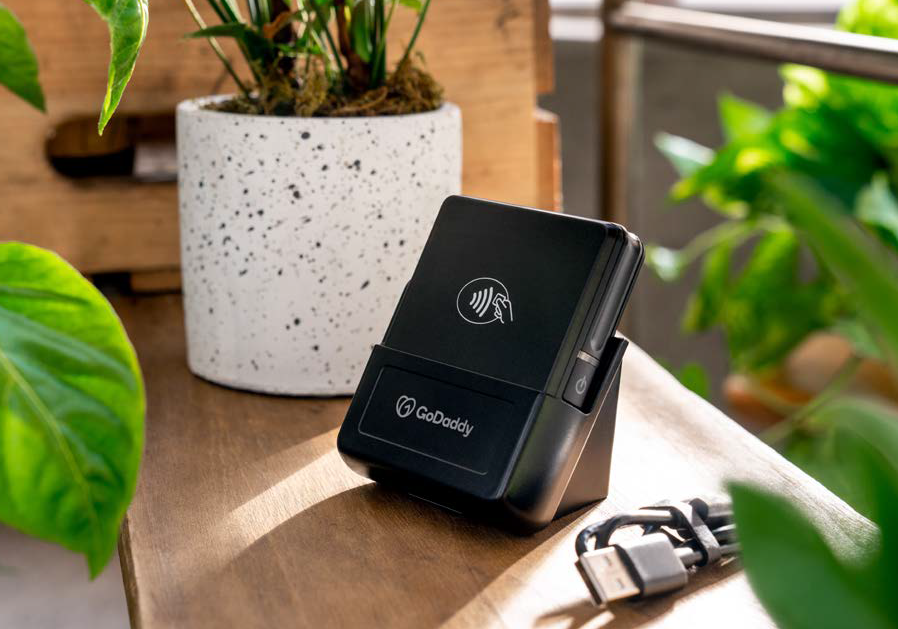 Photo: Poynt Card Reader
Point-of-sale (POS) hardware: To help our customers seamlessly sell both online and in person with the power of GoDaddy Payments, we introduced two hardware POS devices: Poynt Smart Terminal and Poynt Card Reader.
 

Smart Terminals are sleek, powerful, all-in-one devices that are ideal for instore needs. Featuring a dual-screen design, they allow both the seller and the customer to ring up an order without needing to swivel a screen around, and there's even an easy-to-use docking station to extend capabilities and connect important accessories.
Card Readers are POS devices that are ideal for our customers setting up at places where space and ease of use are top priorities — think events, pop-ups, farmers markets and more. This device includes a docking station that allows users to free up their hands and offers a long-lasting battery life for those extralong events. This solution is powered by the free GoDaddy mobile app.
 

GoDaddy Studio: GoDaddy Studio pages allow app users to easily and quickly create multiple posts with the same look and feel within a single project. In 2021, we added this feature to GoDaddy Studio Web in addition to iOS and Android.
Chat conversations: We're replacing the existing Websites + Marketing (W+M) website messaging widget (currently an email form) with chat features and chatbots powered by Re:amaze. This channel gives W+M customers a customer engagement tool with more channels, in-depth integrations with commerce data, automation and chatbots.
GoDaddy Pro: We recently launched the Hub by GoDaddy Pro. With this prioritized ticketing solution, users can easily access dedicated website designer and developer support teams 24/7 through their preferred method of contact. A single dashboard accommodates entering and managing support tickets and service requests.
Social media calendar: Posting regularly on social media can be overwhelming and time-consuming for small business owners — especially when their passion lies within their small business, not becoming an expert digital marketer. We decided to make that simpler. W+M now alerts customers about upcoming holidays and occasions and even provides relevant content suggestions and attractive templates to match those events. There's also a calendar view that makes it easy to create and schedule social posts up to four weeks ahead.
Acquisitions
In 2021, we continued to focus on acquisitions by evaluating each opportunity through a strategic, financial and integration lens.
Notable highlights include the acquisition of:
In addition to these acquisitions, we invested in two companies in 2021: Tailor Brands, a company that automates parts of the branding and marketing process for small businesses and Teikametrics, a company that helps small businesses maximize sales on third-party platforms.